Welcome to North Shore

Charlie, the monk seal, is a beloved resident of the North Shore.
About an hour from the hustle and bustle of Honolulu, Oahu's North Shore is the complete opposite. The striking difference between the condo towers and shopping centers of the island's urban core and the easy beach life of the North Shore is what attracts a certain type of person.
Life is laid back and rural on the North Shore. On the weekends, the small-town vibe of the area is filled with locals and tourists hitting the beach, local restaurants, and oceanside food trucks.
To the locals, North shore provides so much more than Big Waves. Spanning roughly 17 miles, the North Shore is one of the last places on Oahu that manages to "keep the country-country." The fertility of the land and rich soils are home to Sugar Cane Fields, the
Dole Plantation
, Chocolate and
Coffee farms
and so much more! Local produce can be found at the many famous food trucks along Kamehameha Highway, like
Giovanni's Shrimp Truck
. In the morning, don't be surprised to see the pros chowing down on an Acai bowl from
Banzai Bowls
after a dawn patrol surf session at the famous Pipeline. If you're looking for a more formal sit-down restaurant just down the road in Haleiwa Town there are excellent world-renowned options.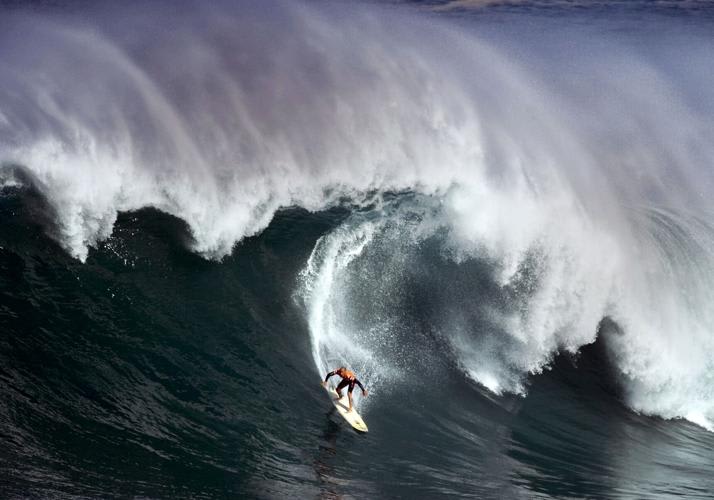 World Famous Surfing Spots like Ke Iki Beach, Sunset Beach, Banzai Pipeline, Waimea Bay, Laniakea— the list of the North Shore's best beaches goes on and on. Oahu's North Shore is the world-famous mecca of surfing. No matter where a surfer is from, they will want to surf the North Shore. The
Triple Crown of Surfing
— the
Reef Hawaiian Pro
, the
O'Neill World Cup of Surfing
, and the
Billabong Pipeline Masters
— all take place on the North Shore. Whether looking to buy on the North Shore or not, if you are on Oahu during competition months this is a can't-miss experience. There is nothing more humbling than watching a 40 ft wave crash into the earth and clearly portray the 'mana' of these majestic Hawaiian Islands.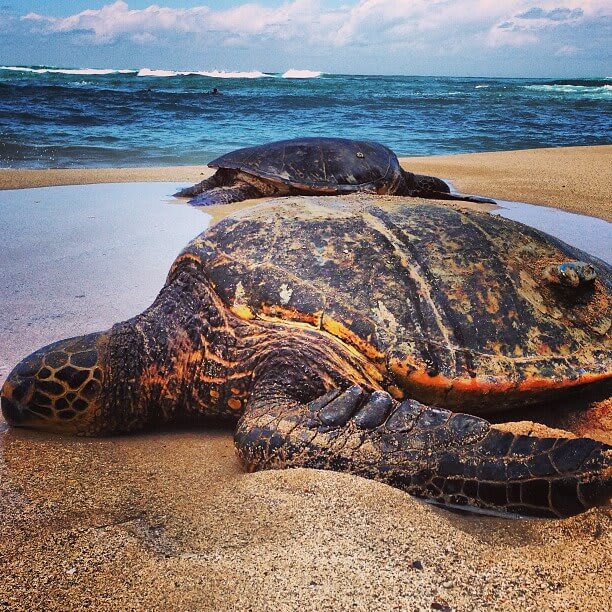 Laniakea Beach, or Turtle Beach in Oahu, is one of the top beaches to visit on the island. It's known as the best place to see green sea turtles on the sand and in the water. Below is a rainbow dazzling in the sky over Waimea Bay.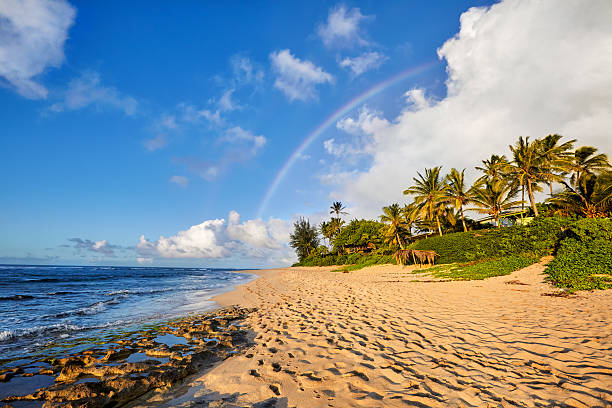 Waimea is famous for its big swells in the winter and is a renown place to watch some of the world's best and bravest surfers. During summer, the water calms considerably and is a great destination for swimming, snorkeling and diving.