The Sun Rises Over a New Day in Lanikai
Welcome to Lanikai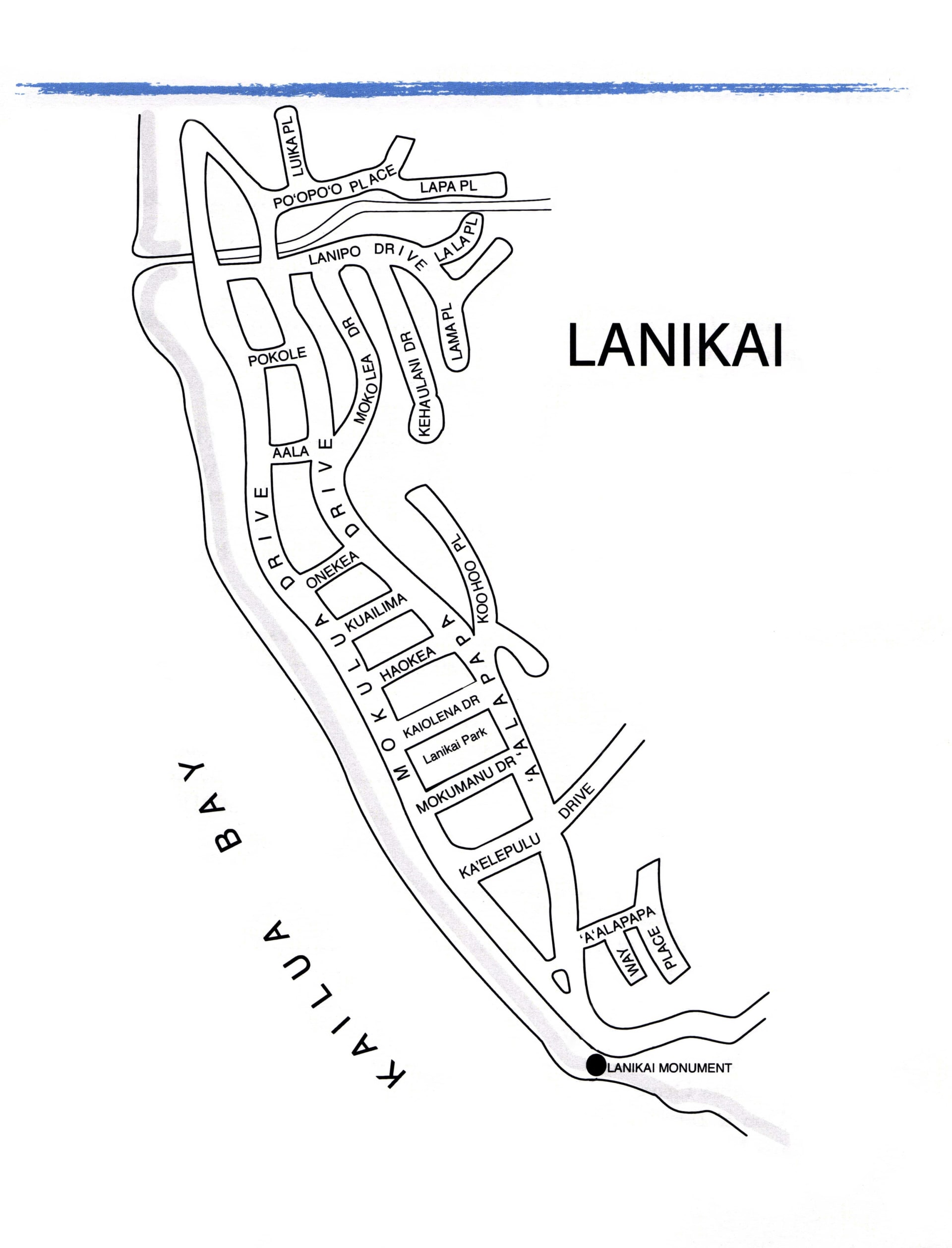 Located on the Eastern windward section of Oahu, Lanikai offers delightful trade winds to cool you down after a wonderful day at the most beautiful beaches on the planet. Most unique, there is only one way in and one way out of Lanikai. The close knit community boasts what is one of the state's first bike lanes. Most mornings, you can find neighborhood residents biking, jogging, walking, skate boarding, pushing babies in strollers, walking their dogs, or talking story around the loop. This time is perfect for socializing, making friends, or catching up on the latest coconut wireless. There is a common saying that "what happens in Lanikai stays in the loop."
Lanikai is also home to a charter Elementary School,
Ka'ohao school,
which is in high demand for local families and helps to drive property values up. There is also a community park with field space, community garden, and a playground that all Lanikai residents own. This space hosts craft fairs, sporting events, and even theatre nights featuring local actors of Lanikai's own Mortgage Players Theatre Guild. Visitors are served popcorn and can bring their own libations to these nights & join in the fun by cheering on the heroes and booing or hissing at the villains.
Lanikai is also home to one of the best canoe clubs,
Lanikai Canoe Club
. If you are interested in paddling but are not ready for a competitive team, there are plenty of options for paddlers to jump into a morning or full moon outing.
As with any beautiful foreign language, the Hawaiian language is rich in history and meaning. This is abundantly clear in the Lanikai neighborhood, as it translates to "Heavenly Sea." Looking out on Lanikai Beach, the green-blue turquoise water is an inspiring sight to behold. The lucky few who reside in this charming area, have the privilege to wake up to the sound of waves crashing on the reef while being embraced by an enchanting sunrise.
Lanikai is exclusively located along the shore just east of Kailua Beach. Located far from the normal tourist attractions, beaches in this area are usually less crowded and mainly frequented by the residents. This sort of privacy is highly sought after in Hawaii, thus raising the value of Lanikai, and Kailua, homes for sale along more scenic yet less tourist-filled beaches.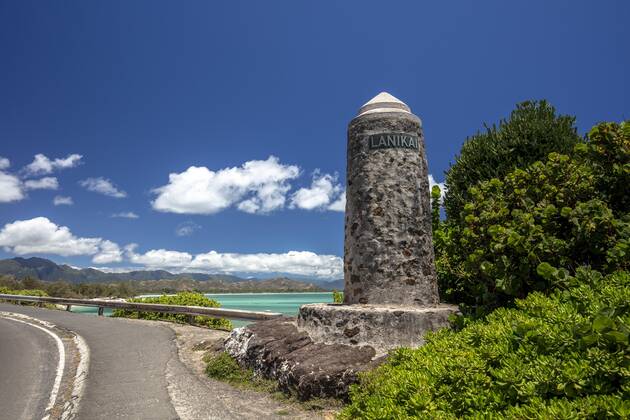 The Lanikai Monument is a simple pillar located on a narrow strip of land that is a high point next to the road and that is narrowly bonded to the north and west by Kailua Bay and Kailua town, to the south by low hills, and to the east by the Lanikai. The monument's function was to mark the boundary and entry point of the community of vacation and residential homes, a country club, and a golf course. The Lanikai Monument is significant as a marker defining the boundary of and entry to a rapidly-growing real estate venture. In addition, the monument is significant for its association with the economic and technological growth of the island of Oahu, and for its association to the famed local architect, Hart Wood, who the design is attributed to.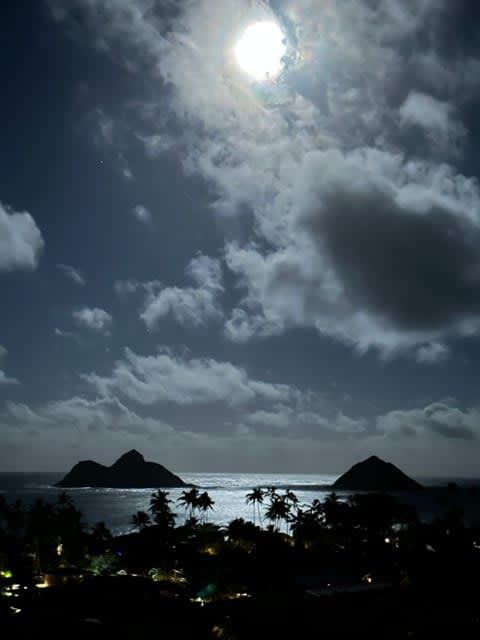 The Moon Rises over Lanikai at the end of a day
Lanikai full moon from the Pill Box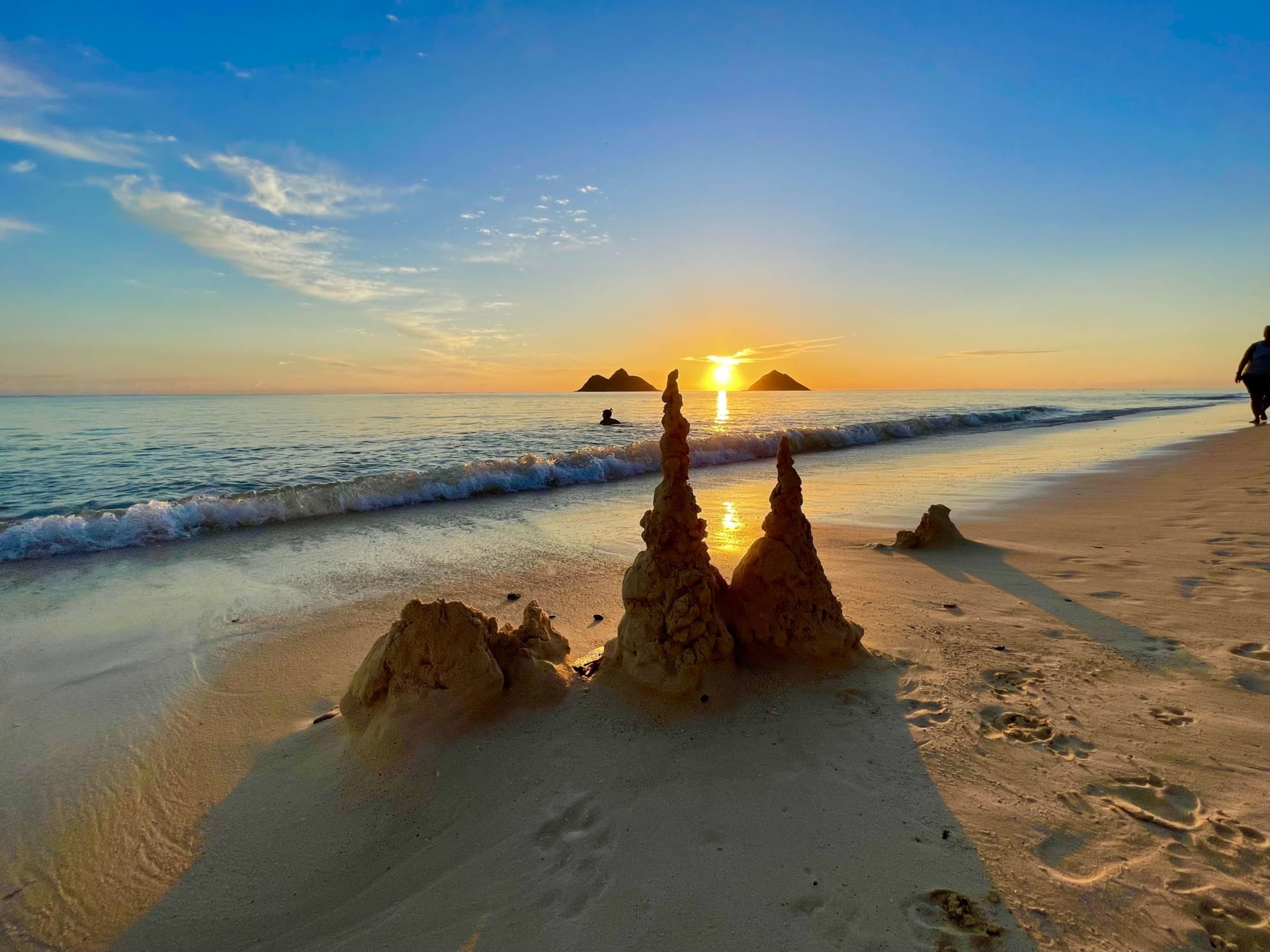 Seaside Kingdom overlooking the Mokulua Isles